WELCOME TO SIMPLE BITES
Send meals for any occasion or life event! Whether someone just had a baby, moved into a new home, lost a loved one, or came home from the hospital. Simple Bites Meals offers a variety of single serve meals that can be enjoyed anytime with no pressure to return dishes or eat in a matter of days. Our classic favorite and keto friendly meals are prepped, prepared, assembled, packaged and frozen in oven & microwave safe containers. Just pull from the freezer, reheat and enjoy!
Serving ID, UT, MT, WY, CO, CA, NV, WA, & OR
Local delivery across the Treasure Valley including Boise, Meridian, Eagle, & Nampa.
Simple Ingredients. Simple Instructions. Simply delicious.
#ChooseSimple

Pick a Box
Simple Bites offers a variety of Oven Ready meals from breakfast to dinner to give as a thoughtful gift that everyone can enjoy. We also have our Simple Bites Meal line that is carb conscious (KETO friendly)!

Check Out
Choose from our different variety boxes assembled for you or build your own. NO subscription! Just order when you want!
Simply Enjoy!
Pick up at our facility in Meridian, ID OR receive delivery in one to two days (scroll down to see if we ship to you), all prepared and ready to heat, eat & ENJOY!
Image slide

Tell your brand's story through images
Image slide
Tell your brand's story through images
GETTING TO KNOW SIMPLE BITES
Simple Bites is located in a state-of-the art catering facility in Meridian, Idaho where we prepare fresh and delicious meals perfect to gift for any occasion or life event! Meals are also perfect for anyone looking to get a break from cooking for the week.
Simple Bites is not only locally owned and operated, but woman, retired veteran & family owned.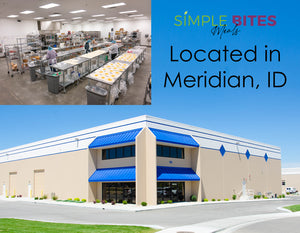 Delivery Info
Local Pick Up Hours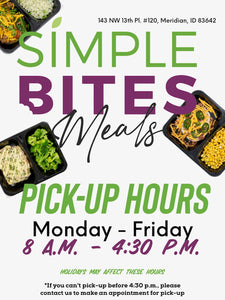 Subscribe to Our Email List!
Subscribing to our list is FREE! You'll Get Access To...

#1. Discount Codes
#2. New Meals/Products Notifications 
#3. Receive Gift Ideas 
& MORE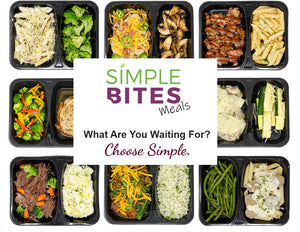 Love the breakfast sandwiches! We haven't had a meal we didn't like. Thanks for being there for us!" – Lorna

LOVE the carb conscious meals!  Makes it easy to stick to healthy eating with a busy schedule."- Heather